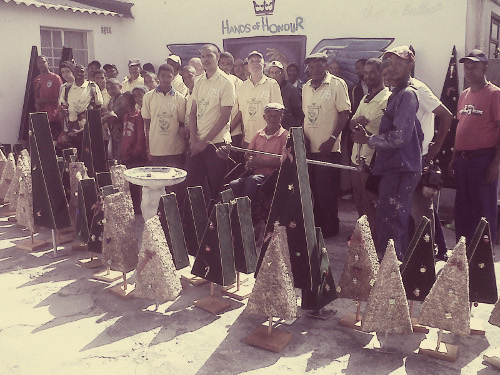 Paul Talliard knows just how devastating drug addiction can be. A former fireman, Paul lost everything he owned due to his addiction to drugs. For a while, he started visiting soup kitchens.
Paul explains his experience: "After visiting one particular soup kitchen, I observed that the people running it not only dished up food, but also dished up hope in a sense. They freely offered support to anyone who needed assistance in making the transition from a position of hopelessness and homelessness to one of self-sufficiency and ultimately fulltime employment."
It was this experience that encouraged Paul to work at the soup kitchen. Within a few weeks he was fully rehabilitated and volunteering at the same soup kitchen where his life had been changed for the better. At this point, Paul started noticing an alarming increase in the number of young and adult men visiting these soup kitchens.
Paul decided to form an NGO known as "Hands of Honour". They operate from a home which serves as an office and a sanctuary which provides a warm daily meal and emotional to support to those in need.
The programme now focuses on addressing the challenge of unemployment, drug addiction and crime. As Paul explains: "We transform derelict buildings which are havens for drug addicts and criminals into safe, attractive public spaces. It is amazing to see a former drug den acting as a vegetable garden to feed the community."
There are many success stories from the organisation, such as that of Leyton Fillies. He was a member of the 26s prison gang before he joined Hands of Honour. He now has a job and supports three children in the community, by paying for their school fees.
Another is that of Keith Petersen. He lived on the beach as a homeless man and now runs his own garden and landscaping venture. He now supports his estranged family and grandchildren. Two years ago he received his first Father's Day card in 15 years.
Paul would like to start a recycling plant. In order to do this, he requires financial and non-financial support.
This is Paul's story of help. To read more stories like these, visit: www.youcanhelp.co.za. If you would like to help:
Paul Talliard
(t) 0721389150
email: [email protected]
Web: www.handsofhonour.co.za