That's a powerful image of Africa's most advanced country…
Power outages in South Africa has had everyone up in arms for the past couple weeks. A simple search on M&G, The Times or Thought Leader will give you its history and interesting commentary on it. Load-shedding by Eskom, the local power supplier which also provides electricity for surrounding countries, has been the cause. If you run a web-based company, this has got to be one of the most annoying things with which to contend.
A tool for troubled times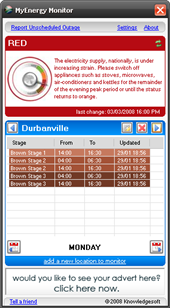 In the midst of it all, a local software-development shop has come up with a nifty little tool (Windows/PC only) that allows you to monitor South Africa's power status. MyEnergy Monitor claims:
It will give the user the ability to monitor selected load-shedding schedules by location; for example, at home, at work, clients, suppliers and branches … simultaneously!

MyEnergy Monitor aims to eliminate the confusion surrounding the schedules currently available to the public and present only relevant information in a logical format.
That's pretty handy, actually, especially when you're trying to juggle business schedules that rely on power to operate — even if this means making sure you create a generator schedule, or time your internet time around the open windows of power availability. I love to see small utilitarian applications like these, made by people who are in the same situation as everyone else.
Being the web-focused guy that I am, I wonder what they could do with this data online. Would it be useful to have this data online in an equally usable format? How about a way to get an SMS reminder for your area one hour before the power is due to be shut off?
Prince Ngarambe's goals are to become Rwanda's first transgender model and to uplift the country's youth
Unlike the ANC, the core values of the freedom fighters do not change with each leader it elects